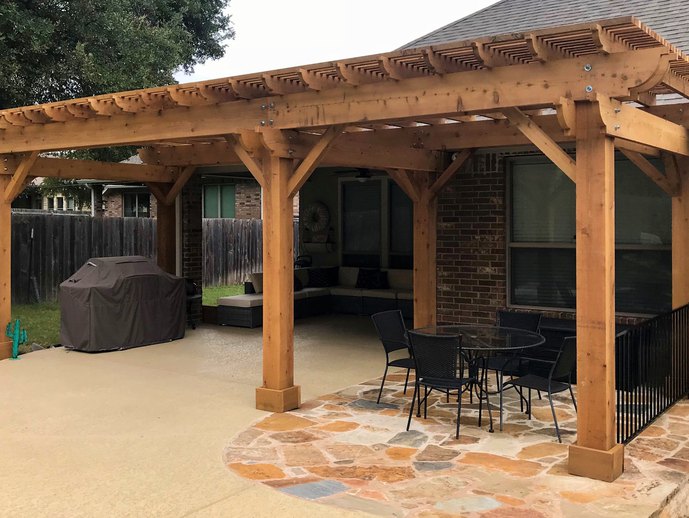 A pergola is an open-air space garden feature or structure that consists of vertical posts or pillars that support a roof of open beams or lattice or provide full roof coverage. The top is usually designed to provide partial shade, allowing sunlight to filter through while supporting climbing plants, such as vines, roses, and grapes.
Pergolas can be made of different materials, such as wood, metal, or vinyl, and come in various shapes and sizes.
The cedar slats pergola offers a beautiful shade pattern on the patio. In contrast, Topgal Polygal or traditional roof systems provide complete protection from the elements and allow the addition of lights, ceiling fans, and other outdoor electronics.
Pergolas can be attached to your home or built free-standing in your yard. So a pergola can be the perfect solution, whether you're looking for a unique space to host a gathering or just a spot to relax with your family and friends.
Gazebo or pergola installation is a highly versatile garden or backyard feature that varies from simple to elaborate. Here are just a few reasons why pergolas have seen a surge in popularity in recent years:
They're beautiful. Regardless of whether you choose a simple design or something elaborate, the outdoor gazebo installation will be the focal point of your yard. Hiring a professional pergola contractor can add a stunning architectural feature to your space.
They support vines and climbing plants. If you place plants like Texas Wisteria or Passion Vine strategically, they will wind their way up the wood supports of the pergola and through the beams.
They won't break the bank. The pergola installation cost is wise if you want to transform your outdoor space without overspending.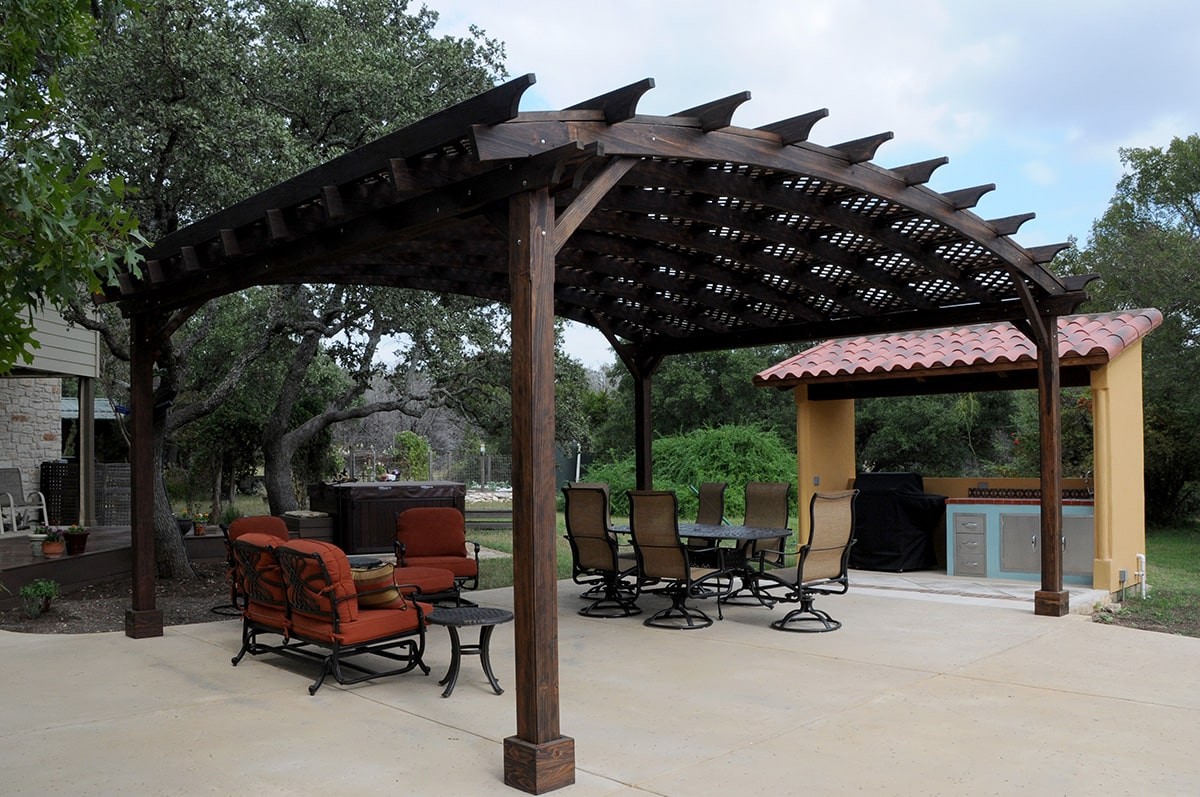 Did you know a pergola can extend your garage, allowing you to keep one more car in the shade? Many clients choose modern pergola installation not only for its beauty but because it's a practical way of using outdoor space.
Instead of creating expensive outdoor buildings and applying for various permits, homeowners have discovered a better solution. The affordable cost is one of the most important reasons these home improvement projects are so popular.
If you're ready to upgrade your garden or yard with a covered pergola, we're here to help bring your imagination to life. We'll send a pergola installer to your house to evaluate the available space in your garden. Your cedar pergola construction will be a perfect match for the look of your home. It will enhance its visual appeal and value.
Contact us today!
Free Constultation
We have more finished pergola projects to give you ideas!
See Our Completed Projects
---