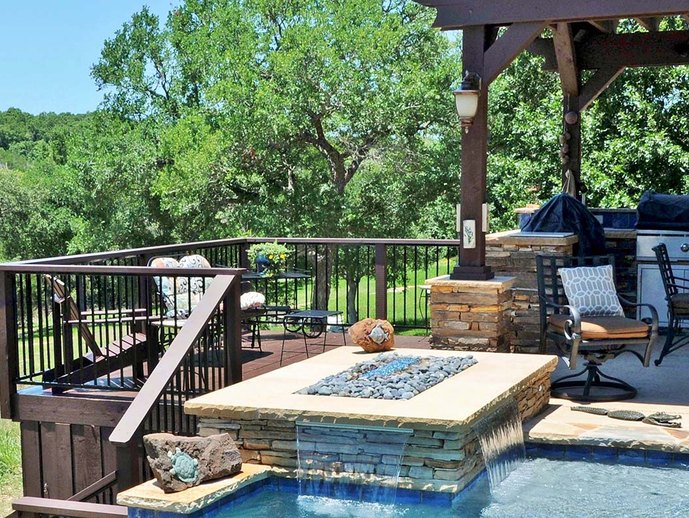 Creating an outdoor living space can significantly enhance your home's functionality and enjoyment, enhance your property's aesthetics, and increase its value. In addition to providing a space to entertain guests, outdoor living spaces can also be used for quiet relaxation, family time, and exercise.
Additionally, we can even build you a work-from-home space into your design!
However, to set up the perfect outdoor space for your home, you'll need to enlist the help of professionals who can handle the job properly. We offer these beautiful solutions for your outdoor living area:
Check out our gallery for project ideas!
See Our Completed Projects
You can get creative with outdoor areas. Depending on the space in your backyard, an outdoor living space contractor can set up a fireplace, seating area, outdoor kitchen, patio, pergola, and more! There's so much you can do with your outdoor space!
Design your outdoor living spaces with a pool and fireplace, and you maximize the potential of square footage around your home.
Most importantly, fun outdoor living spaces can even serve as your weekend getaway, making your home one of your favorite places!
---
Patios
Enjoy Your Outdoor Living Space With Patio Installation!
Transform your home with beautiful, value-added outdoor projects, including patio installation.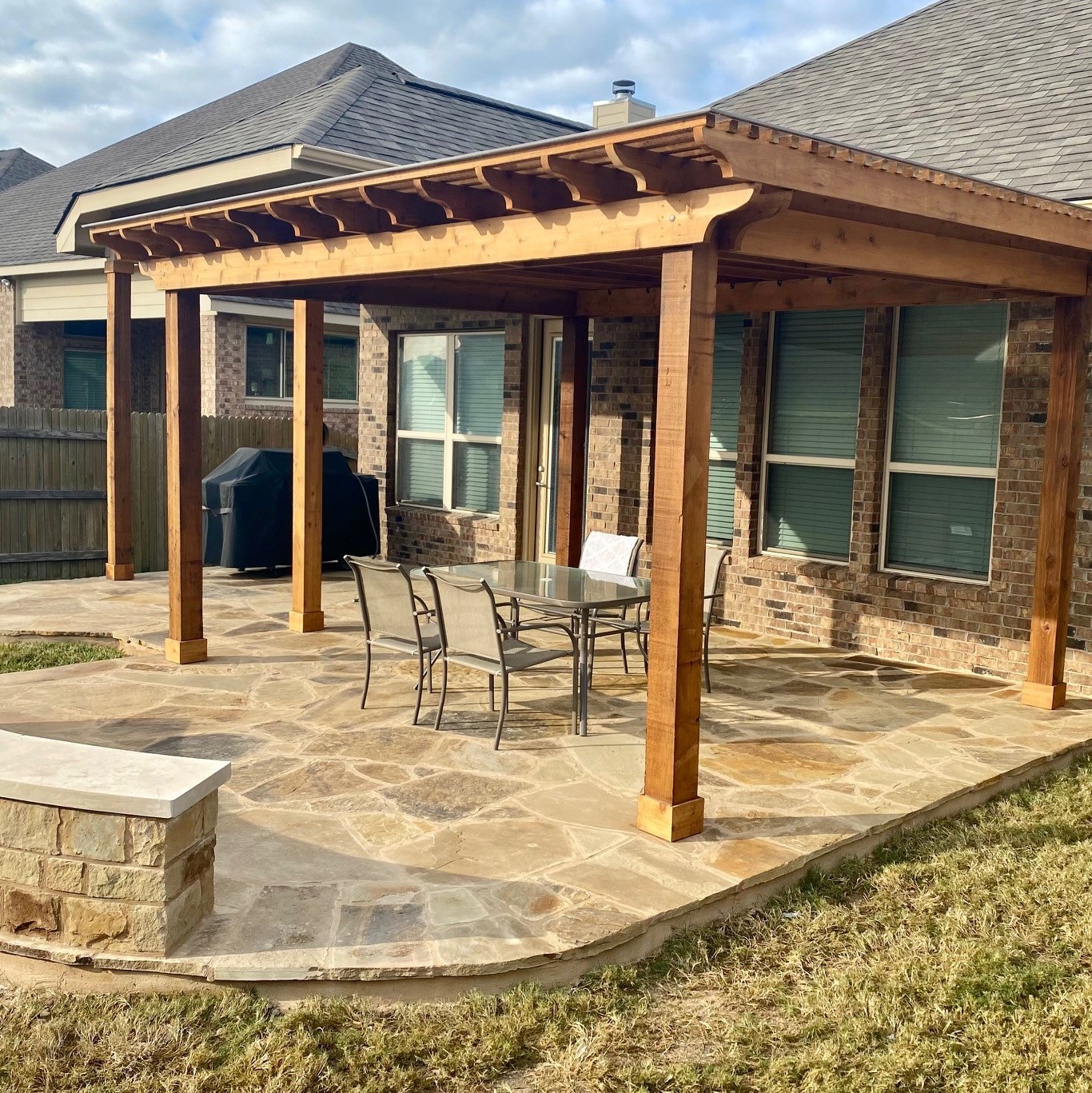 The hot climate of Texas is perfect for spending a lot of time out of the house. So what better place than in your own backyard outdoor living space?
A beautiful and functional patio is a place to spend time with family and friends over coffee and drinks. It's where you can relax, chat with your loved ones, and look at the starry sky. You can even bring your favorite book and enjoy reading it, accompanied by the subtle sounds of nature. They provide a comfortable and inviting space to enjoy the outdoors while still being protected from the sun and rain.
Patio installation is one of the best additions to increase your home's curb appeal and resale value. Moreover, patios are easy to clean and maintain. In addition, if you need it covered or closed, adding a pergola will take care of that.
Top Reasons to Hire Experienced Patio Contractors
Patio installation is very detailed and time-consuming.
Hiring a local professional patio contractor will save you a lot of time and headaches vs. doing it yourself.
You may need to obtain a building permit. We'll handle the detailed technical drawings for the local authorities.
We'll ensure any HOA rules are adhered to regarding the specifications of a new patio.
You'll also get these benefits:
A clear plan within your budget
The finished project is within the agreed deadline
The concrete patio contractors will deliver what they promised
You get a warranty for the workmanship and materials used
Our professional and dedicated outdoor patio contractors can install any outdoor living space additions to your home.
Call us today to enhance your outdoor living space!
Free Constultation
---
Outdoor kitchens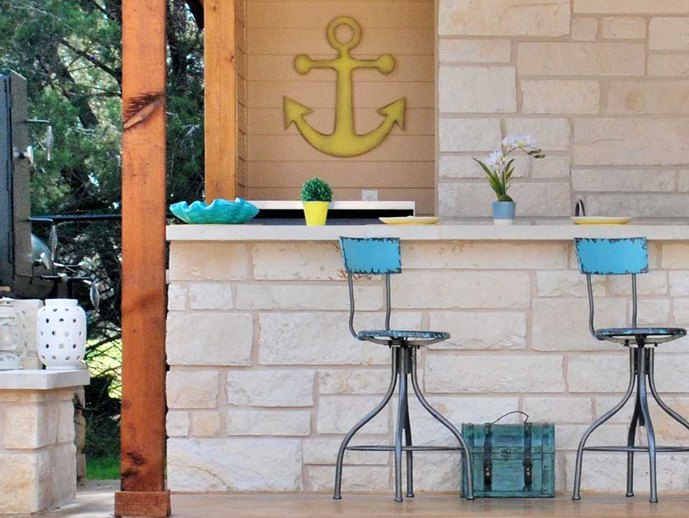 Outdoor kitchens are becoming increasingly popular.
An outdoor kitchen isn't just about looks – it's also about functionality. They add aesthetic value to your property and make cooking enjoyable and convenient. Also, they're the perfect location to hosting parties and get-togethers with friends and family in your backyard. These are only some of the reasons to consider an outdoor kitchen installation.
When considering outdoor kitchen costs and where to find the best outdoor kitchen contractors, Georgetown Fence & Deck has the experience to help you complete your project.
Budget is always a factor for custom outdoor kitchen installation. As with any construction, the total cost will vary depending on your outdoor kitchen's size, specification, design, and amenities.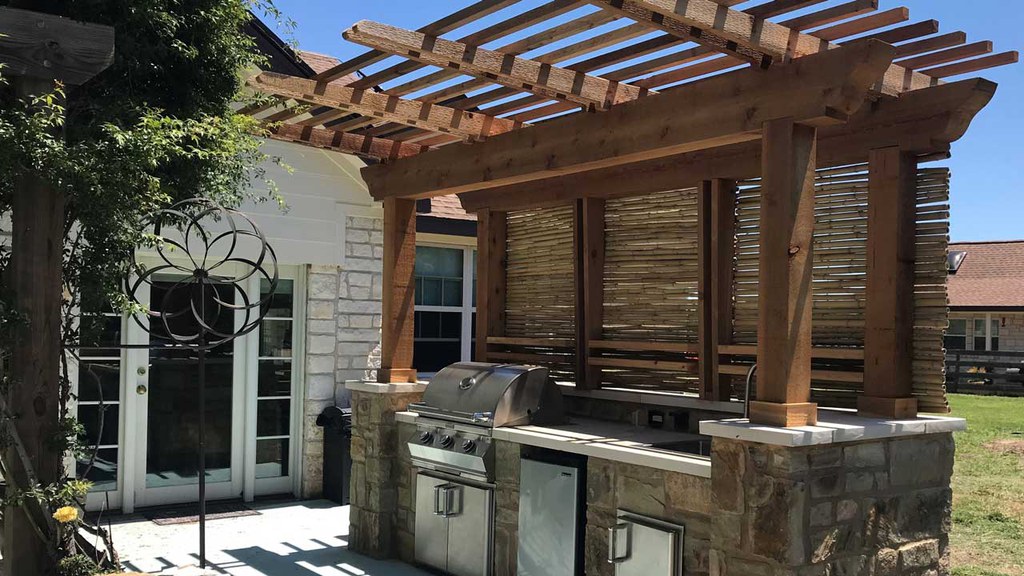 Consider how you will use your outdoor space when deciding on appliances such as built-in BBQ grills, smokers, and outdoor pizza ovens. Also, remember lighting and accessories to maximize your enjoyment of your home's expanded entertaining area.
Our outdoor kitchen installers have taken multiple projects to completion with many satisfied customers and happy families. So if you dream of an outdoor kitchen, we can make it a reality!
Every project we work on is unique and customized to your needs and preferences. Because of this, let us know what you want, and we'll take care of the rest. So whether it's a small, cozy cooking space or a spacious and luxurious outdoor kitchen and dining area, our professional contractors can make it all happen.
Best outdoor kitchen installation contractors in Georgetown, Texas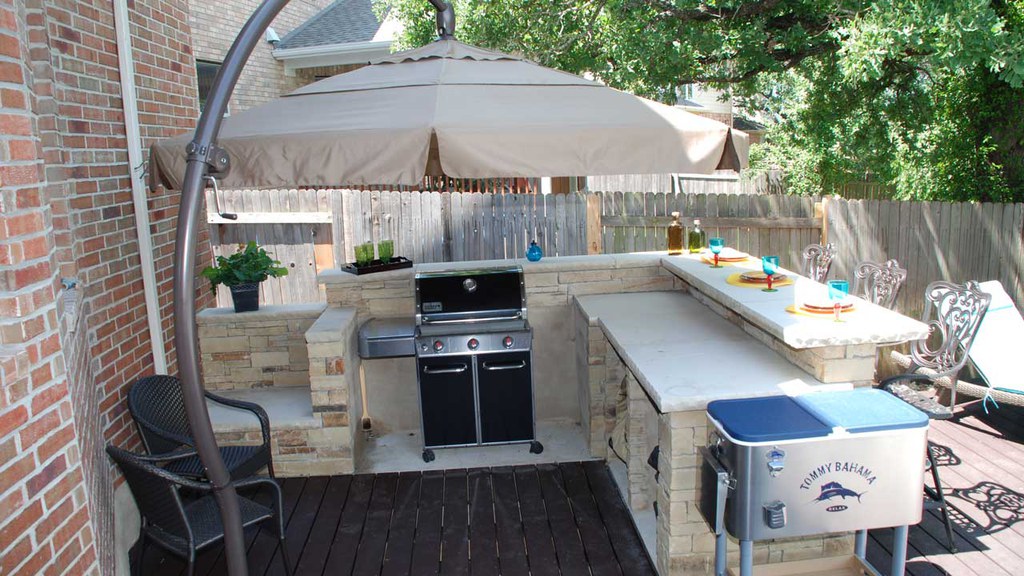 No more searching for "outdoor kitchen contractors near me." If you're ready to make your dream of a beautiful outdoor kitchen come true, contact us for a free consultation. We'll listen to your ideas and give you a quote. Then, when you're ready, we'll turn your outdoor space into a great cooking and dining area.
Contact us today and turn your dream into reality!
Free Constultation
View our completed projects to get more ideas!
See Our Completed Projects
---
Masonry
Our team of residential masonry contractors has decades of experience in helping homeowners in our local area create beautiful outdoor living spaces in their gardens.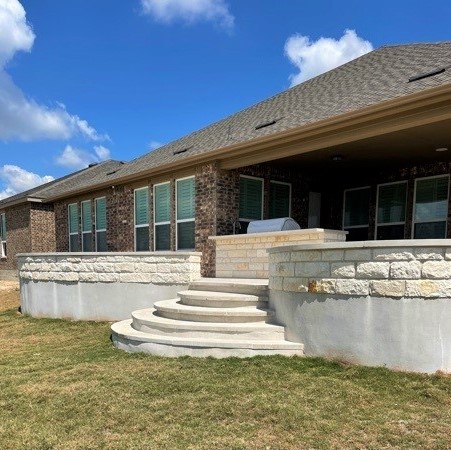 Are you looking for ways of creating beautiful and functional outdoor living spaces around your home? If you have an idea, our team of stone masonry contractors has the know-how and experience to make it come to life. From garden landscaping with flagstone to wall seats for your patio or deck, masonry installation specialists can handle any project.
In addition, our contractors specializing in landscape edging can create a beautiful plan for you. We'll look at the natural landscape and the position of your home and find ways to enhance its visual appeal. At the same time, we'll identify all areas where we can design and build outdoor living spaces, such as a patio, fire pit, or outdoor kitchen.
Over the years, our stone masonry contractors have helped many residential property owners transform and upgrade their homes by:
Installing Stamped and Stained Concrete Patios
Performing masonry repairs
Building tile-covered steps and landings
Masonry Columns for fences and driveway entrances
Designing and building retaining walls and landscape edging
Our experience as local masonry contractors allows us to understand what you want, even if you only have a basic idea. We'll also advise you on increasing your home's value and curb appeal through simple projects such as landscape edging.
When you start looking for "masonry contractors near me," you should be able to check that the company can fulfill its promises. A professional team of residential masonry contractors will have the following:
Examples of finished projects
BBB accreditation
Georgetown Fence & Deck's team of experienced stone masonry contractors specializes in masonry repair services and designing and building landscaping projects in concrete, tile, stone, or brick.
Contact us today to share your ideas about your outdoor living space!
Free Constultation
---
Fireplaces
Outdoor fireplace installation is becoming a very popular addition to outdoor living spaces. It adds value to your home and makes it a cozy place to relax.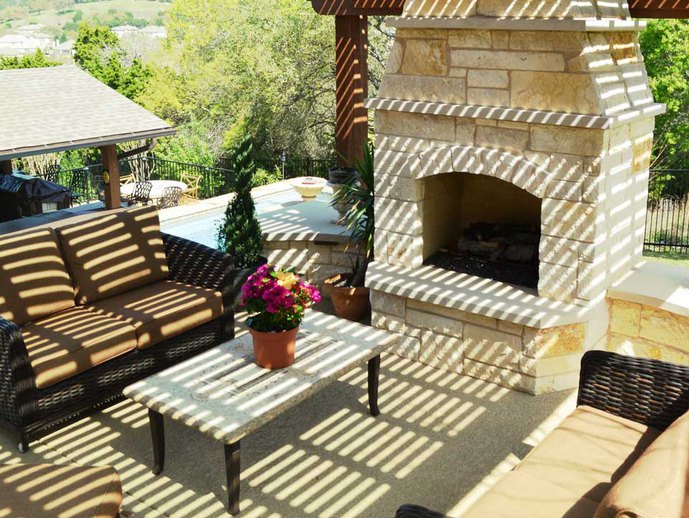 A gas fireplace is worth considering if you plan to insert a new fireplace in your outdoor living space. It's energy-efficient, easier to clean and maintain, and simple to operate.
Our fireplace contractors can take care of the entire installation process, whether gas or conventional, so you can enjoy the warmth and atmosphere it provides all year round.
During your free consultation, have a realistic budget; we can help you maximize your investment.
You can finally end your search for "fireplace installation near me" now that you have found us. We're a reliable, local company ready to improve the ambiance of your home with a beautiful fireplace.
Bring us your ideas for your outdoor living spaces, and we'll make them a reality!
Free Constultation
---
Don't Settle and Expect the Best!
Our professional outdoor living spaces builders can help you plan the best design for your outdoor space and assist you in choosing the most appropriate materials to match your home's design.
Don't settle for a prefabricated design for your outdoor living area. Our designers can help you bring your vision to life! After all, this space should reflect you and your lifestyle!
Do Something Extraordinary!
We have seasoned and skilled outdoor living space contractors who can help bring your imagination to life. We design all types of outdoor living spaces with various features, such as:
Fireplaces and fire pits
Pergolas, columns, patios
Outdoor kitchens
Decorative tiles and much more
Share Your Idea for Your Outdoor Living Space & Our Professionals Will Build It
Give us your ideas – share your vision. If you can, show us pictures. We'll look at your available space and discuss the possibilities.
Then we'll create the design and start working after your approval. Even a small backyard is suitable for outdoor living space. It can become your secret resting place at the end of a busy day.
Let the experience of Georgetown Fence & Deck turn your backyard into a beautiful outdoor living space you'll love to come home to!
Contact us today to get started!
Free Constultation
See all of our completed projects!
See Our Completed Projects
---