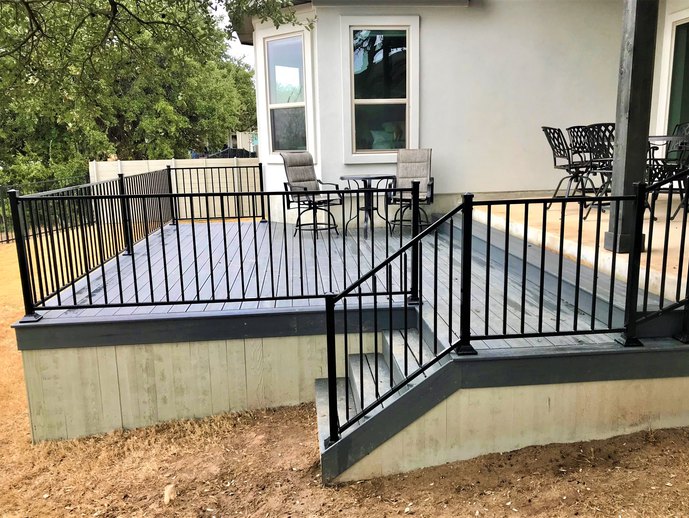 The weather in Central Texas is beautiful year-round, so it's no surprise that residents want to spend lots of time outdoors. Installing a deck on your patio, balcony, or pool is an excellent investment!
Decks provide additional living space to your home and are completely custom designed and built. A well-constructed deck offers the perfect spot for relaxing with your family or entertaining friends.
Decks can range in size and complexity from a simple platform to a multi-level structure with built-in seating, lighting, and other features.
One of the benefits of an outdoor deck is that it provides additional living space connected to your home while also providing a transition between indoor and outdoor areas. In addition, decks can be designed to complement the style of your home. We will build your needs and preferences into your dream deck.
If your home is small but has space in your backyard, our professional deck builders can craft the perfect decking for you. Let us know how you plan to use the space – you can add dining, seating, or lounging arrangements.
Get the deck you've always wanted. When you work with our custom deck builders, they'll take the time to understand your goals and help you pick the style and type of board that are best for you. In addition, our outdoor deck contractors will work to ensure that the project is done to your satisfaction.
Our expert deck builders have the knowledge, tools, and materials to do the job safely and efficiently. They'll work faster than an amateur and know all regulations they must comply with. There's simply no substitute for hiring the best deck-building contractors.
[Insert wooden deck pic – Deck contractors work with many materials, but wood is a best-seller.]
Our Project Managers and outdoor deck builders create custom designs that suit your property and you. Whether you know what you want or need help with the design, we're here to serve you.
We offer the following decking for residential homes:
Let our professional deck and fence contractors transform your outdoor space and construct the deck of your dreams!
Free Constultation
Need some deck ideas?
See Our Completed Projects
---
Cedar Decking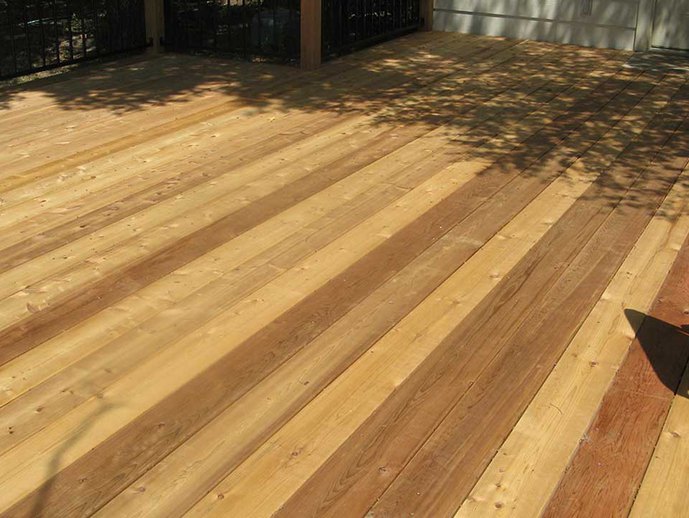 Cedar decking is a type of outdoor decking made from cedar wood known for its natural beauty and durability. In addition, Cedar is a softwood that is naturally resistant to rot, decay, and insect infestation, making it an excellent choice for decking.
Cedar decking is available in various sizes, grades, and styles. It can be stained or left untreated to weather naturally to a silvery gray color over time. Cedar decking can also be treated with a sealant or stain to preserve its natural color and protect it from the elements.
We can create a stunning space to relax with your family or entertain your friends. Cedar decking is an excellent choice for your home.
Because of its rich red color and durability, many see Cedar as the best wood for outdoor deck installation. The smell of this softwood is also a hit with some homeowners.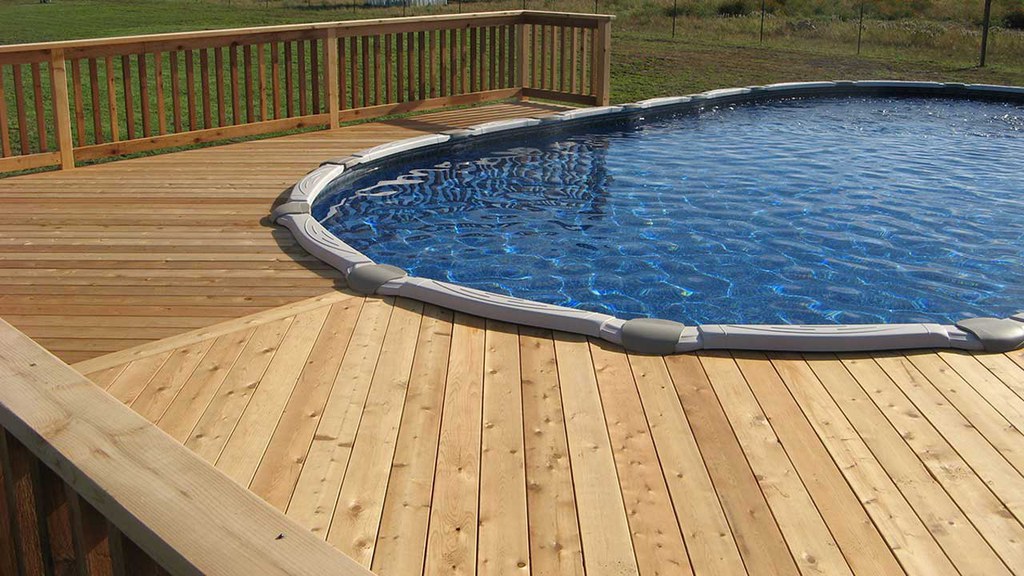 Another advantage of using cedar decking boards is that the wood doesn't need to be packed with chemicals and preservatives to make it last longer. Cedar naturally contains oils and tannins that help to make it resistant to rot, fungus, and insects. Proper maintenance ensures that a cedar deck lasts 20 to 30 years. You'll need to reseal the wood periodically to ensure it lasts a long time.
In addition to construction and installation, we can also take care of deck replacement. We're local installers that are committed to offering excellent customer service. Each client receives a customized solution designed according to their needs and preferences.
Cedar decking can be a beautiful and durable choice for outdoor living spaces, providing a natural and timeless look that can enhance your home's or landscape's overall aesthetic.
If you're thinking about getting cedar decking, give us a call.
Free Constultation
Take a look at our completed decking projects!
See Our Completed Projects
---
Hardwood Decking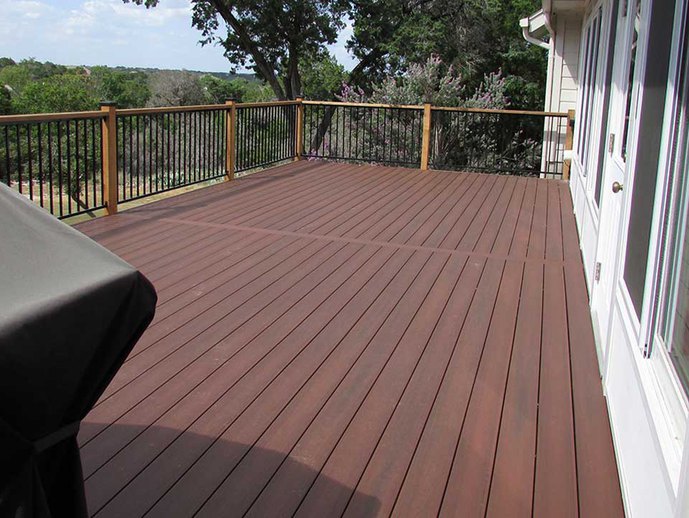 Hardwood decking is an outdoor decking made from hardwoods such as Teak, Ipe, Mahogany, Garapa, Cumaru, Machiche, and other durable woods.
Hardwood decking is available in various colors, textures, and patterns and can be finished or left untreated to weather naturally. The natural colors and patterns of hardwood decking can add a unique and elegant look to outdoor living spaces.
One of the benefits of hardwood decking is its durability and resistance to rot, decay, and insect infestation. Hardwood decking is also dense and strong, making it a long-lasting option for outdoor living areas.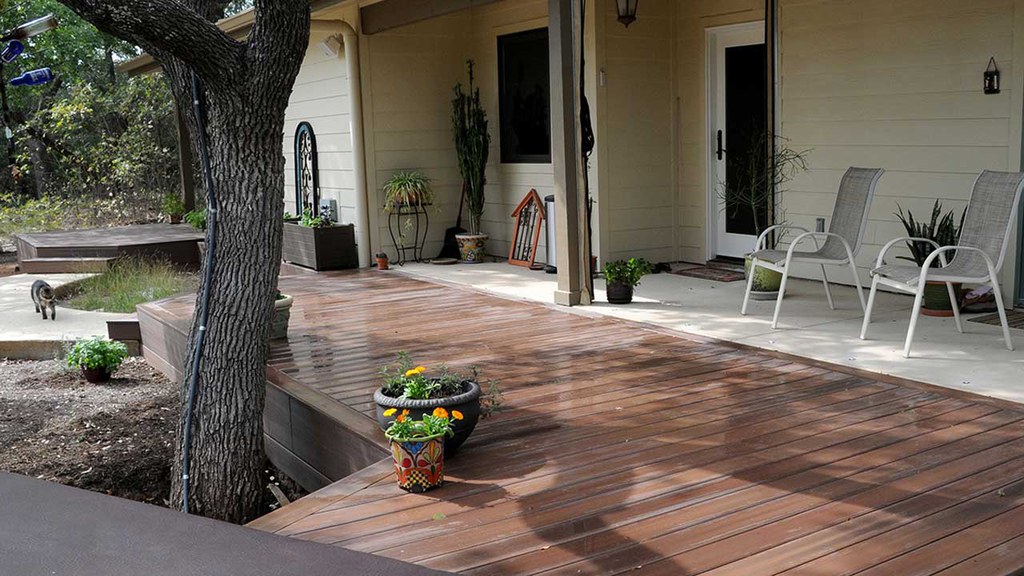 Ipe is the most popular hardwood decking material. It has a tight, dense grain and a rich brown color with red and amber hues. Ipe is:
Cool
Longer-lasting than composite decking
Durable, even with heavy use
Slip-resistant
Scratch-resistant
Insect-resistant
Mold and fungus-resistant
Rot and decay-resistant
However, hardwood decking can be more expensive than other decking materials. In addition, it may require more maintenance to keep it looking its best. Regular cleaning, sealing, and refinishing may be needed to preserve the natural beauty of hardwood decking.
Ipe tends to be the most expensive. An alternative to the Ipe decking is Cumaru decking. Cumaru decking comes in a range of browns and is another naturally beautiful, high-performing decking material. If Ipe is outside your budget, look into this hardwood instead.
Machiche is similar in appearance to Cumaru. It's Class A fire-rated, and it can withstand lots of traffic. Meanwhile, Garapa is a more affordable hardwood. It has fine grains and comes in golden tones. It's stronger than softwoods but not as hard as Ipe, Cumaru, or Machiche.
Overall, hardwood decking can be a beautiful and durable option for your outdoor living spaces, providing a natural and elegant look that can enhance the overall aesthetic of your home or landscape.
We take pride in our work, and we value customer satisfaction. We're the local decking contractor you need to contact if you want to build a new deck or upgrade your existing space. We'll advise you about the type of decking you need based on your aesthetic preferences and budget.
Whether you're interested in Ipe, Cumaru, Garapa, or another wood, you'll benefit from our expert and excellent workmanship. So give us a call today!
Free Constultation
See more of our finished decking projects here.
See Our Completed Projects
---
Composite Decking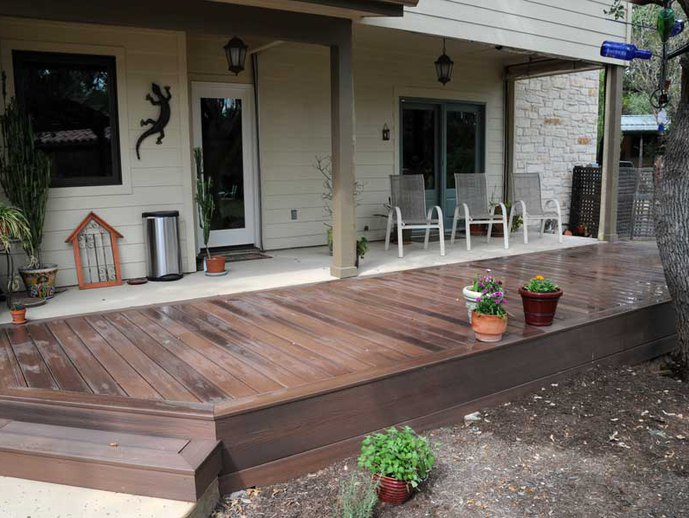 Composite decking is a type of outdoor decking made from a combination of wood fibers, plastic, and other materials. Composite decking is designed to look like natural wood while providing a synthetic material's durability, longevity, and low maintenance.
Unlike natural wood, composite decking is resistant to rot, decay, and insect damage. It does not require staining or sealing to maintain its appearance.
Professional deck builders recommend composite decking for a beautiful, long-lasting outdoor living space. A composite deck will withstand the sometimes harsh climate of Central Texas, as well as intense wear and tear as you walk across it and move furniture. This choice offers the best cost-benefit ratio and other advantages for many homeowners.
Composite decking is increasingly popular because it can blend seamlessly into any home architecture. In addition, the wide variety of designs will satisfy any preference.
Among the best composite decking types, we recommend:
Timbertech decking installation
Azek decking installation
Envision (omit Trex) decking installation
Here are some reasons to consider composite:
It is more durable compared to wood
Easy to clean and maintain
Choose from a wide range of colors, textures, and patterns.
Also, a composite deck will not crack or splinter, reducing the chances of unfortunate accidents and injuries to you, your family, and your guests.
Composite decking can be a durable and low-maintenance option for outdoor living spaces, providing a natural look without the maintenance requirements of natural wood decking.
Call us today, and we will:
Visit your home to discuss the project
Create a plan that meets your requirements and budget
Complete the work to your satisfaction
Offer warranty for the workmanship
Let's get started building your dream deck!
Free Constultation
See more completed projects here!
See Our Completed Projects
---